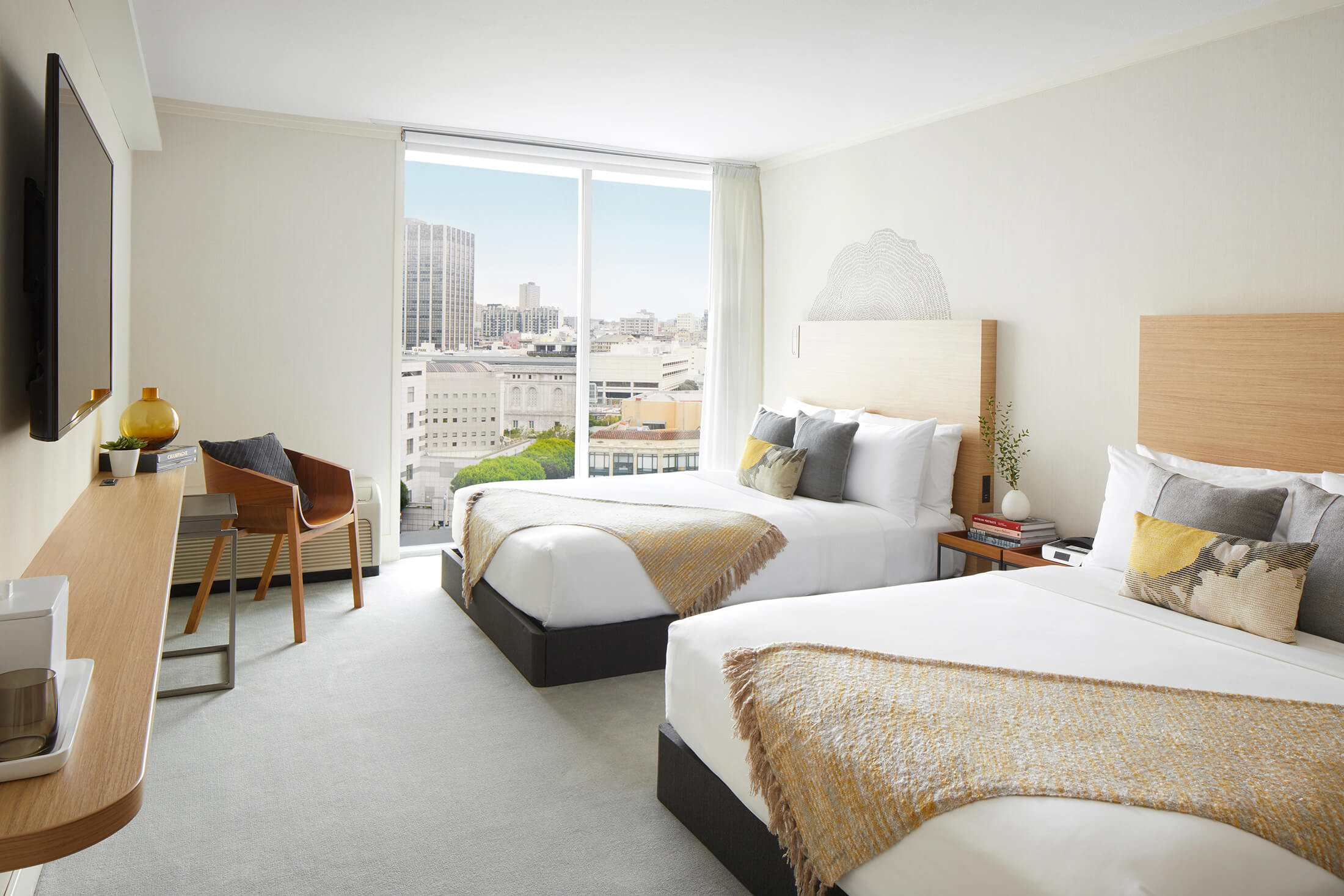 Ensuring a Healthy Stay
The BEI San Francisco team sincerely appreciates your business. The health and wellbeing of our guests and team are of paramount importance to us. To that end, we have adjusted the housekeeping service we currently provide.
Cleaning and Sanitation
Our team has implemented enhanced sanitization protocols across the hotel, developed with guidance provided by local health authorities, the CDC, AHLA Safe Stay guidelines and other governmental agencies. The frequency of cleaning and disinfecting the hotel, with additional focus on high-touch surfaces such as the front desk, elevators, door handles and public restrooms, has been increased to ensure a clean and safe environment for our guests and team members. This elevated approach extends to our guest rooms, restaurants and team member service areas.
Hand Hygiene, Face Coverings and Gloves
Proper and frequent hand washing remains one of the most important steps in preventing the spread of germs. Our team members are required to properly wash their hands hourly and immediately after doing things like sneezing, touching their face, cleaning, entering or exiting guest areas and before and after a shift. We have made hand sanitizer readily available throughout the hotel to assist with hand sanitation when a sink is not readily available. 
Each of our team members are required to wear a mask; according to the City of San Francisco mandates. Guests are also required to wear masks when in public spaces. Gloves will be worn by restaurant team members when preparing food or drinks; other team members throughout the hotel may also be required to wear gloves depending on duties and recommendations made by the CDC.
Physical Distancing
Guests are advised to practice physical distancing and maintain a space of six feet apart from others. Our team members will be doing the same, with reception and service areas reconfigured to assure a safe space between team members. The seating in our bar and lounge has been reconfigured to allow proper spacing for diners and team members.
Occupancy within elevators is limited to four people at a time.
Daily Housekeeping Service
We are pleased to resume Daily Housekeeping service for our guests. If you prefer not to have the service, please contact us via the methods below. We will provide extra towels and amenities on request.
In addition, each room has a privacy sign that may be used as well to indicate your service needs.
Please contact us by:
Dialing 0 (zero) from your room 

Stopping by the front desk 
Room Check Outs
We take hygiene and cleanliness very seriously. As such, after guests have departed, rooms will undergo a more rigorous cleaning as outlined in the guidelines from the Centers for Disease Control and Prevention (CDC), The World Health Organization (WHO), and local health departments on appropriate hygiene standards. 
We recognize that the COVID-19 virus has required all of us to be more thoughtful as we go through our daily activities. Our team members are expected to follow the CDC recommendations for everyday preventive actions to help prevent the spread of respiratory diseases and we encourage guests to do the same. These recommendations include:
Avoid close contact with people who are sick. 

Avoid touching your eyes, nose, and mouth. 

Cover your cough or sneeze with a tissue, then throw the tissue in the trash. 

Washing your hands often with soap and water for at least 20 seconds, especially after going to the bathroom; before eating; and after blowing your nose, coughing, or sneezing.
Our team is committed to providing a clean, safe stay for all our guests. While this will be our main focus, we continue to maintain our prompt and friendly service we're known for.
We are all in this together!
Services and
Amenities
The city, state and federal health and safety measures we've adopted mean that some of the regular services and amenities we normally provide may differ from what you've experienced in the past, or have been communicated on our website.